Best Spring-Flowering Trees For Northern Virginia
We usually think of tulips and daffodils when we think of spring flowers. But some of the best blossoms of spring come from spring-flowering trees. Their emerging fragrance fills the air and falling petals dance in the wind like spring snow, blanketing the ground in color. These are the landscape trees that brighten the early season, and if they offer further seasonal landscape interest, even better!
Our favorite spring flowering trees are low maintenance, long-lived, and offer multiple seasons of interest in the Northern Virginia growing region.
As with any landscape tree, make sure that your yard has the right conditions to grow one of these spring beauties before you decide to plant one. They'll need ample space, plenty of sunlight, and good soil. Most spring-flowering trees are small (5-30'), require full to partial sun, and grow best in well-drained soil of average fertility. If you have the right space and conditions, here are some great trees to consider.
Flowering Cherries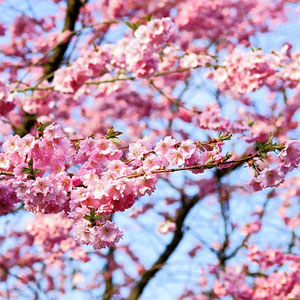 Flowering cherries lend classic beauty to spring landscapes and put on a stunning display when grown in large numbers. Plus, some have the added benefit of looking great in the landscape long after the flowers have faded.
An especially showy variety is the Weeping Extraordinaire™ Double Flowering Cherry (Prunus 'Extrazam', 20 feet). It's a vigorous grower that bears spectacular double pink blooms in early spring. In fall, its crisp green foliage turns burgundy, adding another season of interest.
A stellar, non-weeping flowering cherry is the Kwanzan cherry (Prunus 'Kwanzan', 20-30 feet). It has a broad, spreading shape (so be sure to give it enough room to grow), and offers a wealth of fully double, pink blooms in mid-spring. In fall, its leaves turn coppery shades, and younger trees have attractive, peeling mahogany bark.
Dogwoods
Of all the dogwoods, few can match the picturesque beauty and multi-seasonal interest of the Korean dogwood (Cornus kousa, 15-30 feet). Large, white or russet pink flowers appear in late spring followed by ornate, round, edible fruits of coral red that appear in fall. Its pointed, dark green leaves turn shades of red, orange and purple in fall, and beautiful mottled bark adds interest to the winter landscape.
American dogwoods, while a long-time favorite, have historically had problems with disease, such as anthracnose. But new, disease-resistant American dogwood (Cornus florida) hybrids are giving new life to this exceptional landscape tree. Most were developed at Rutgers University as crosses between the Korean and American dogwood. One of the best is the large-flowered Constellation® (Cornus 'Rutcan', 22 feet), which bears profuse, large, white flowers in mid-spring, and its dark green foliage turns shades of purple-red in fall. Stellar Pink® dogwood (Cornus x 'Rutgan', 30 feet) offers large, pink flowers in mid-spring and purple-red fall foliage.
Magnolias
When it comes to spectacular spring blooms, nothing can compete with magnolias.
The striking and popular saucer magnolia (Magnolia x soulangiana) and star magnolia (Magnolia stellata) are the most widely planted varieties and put on a stunning show in spring - unless frost has damaged their early flowers. If you live in an area prone to late frosts, perhaps consider other options.
Two safer, later-flowering magnolias are also showy and are less likely to be hit by frost. The lily magnolia (Magnolia lilliflora, 12 feet), produces large, dusky pink, lily-shaped blooms from April to May, and the pink-flowered hybrid Rose Marie (20 feet) produces large, goblet-shaped flowers on robust trees in April.
Redbud
Redbud (Cercis canadensis, 20-30 feet) is an unusual tree in that the brilliant purple-red flowers line the branches in mid-spring before any leaves start to emerge. The native trees have an elegant branching structure and heart-shaped leaves that look attractive in summer.
Two particularly interesting varieties are the purple-leaved 'Forest Pansy' and chartreuse-leaved 'Hearts of Gold'. Both of these provide interest throughout the summer, well beyond the bright spring display of flowers has faded.
Ready To Plant?
When it comes to curb appeal (and increased property value), nothing beats the landscape statement of a spring-flowering tree.
Choose one of more of these superb spring-flowering trees and not only will your early landscape look spectacular, but their extended seasons of interest will keep your yard looking good well into fall.
Of course, it's important to choose the right tree for your property and plant it in the best spot. Click the link for our tips on how and where to plant trees like the ones described in this article. >> Read More
In need of tree care services?
Give us a call at 571-244-3838 or request a quote online!